The Best Carry-On Luggage For Men Who Are Ready To Travel The World Again
We all heard a horror story about how the airport lost someone's checked luggage or how it ended up on the wrong plane and went to the other side of the world. More often than not, it's best carry-on luggage for men are ensures you to prevent these sorts of headaches. Traveling with carry-on luggage means you're in total control of your suitcase at all times and ensures that the airport won't lose your stuff.
The Bigger Carry-On by Away is made to last you a lifetime with its polycarbonate material that is both durable and sturdy. The quality even extends to the wheels as it comes with four ultra-smooth, spinner wheels as well as a comfortable-to-grip, telescopic handle. Another few extra features that make this luggage great is the ejectable battery inside that will give your mobile device some life. Plus, inside the luggage is a handy laundry bag and a fantastic interior compression system that gives you additional packing space.
This Carry-On Luggage meets most airline requirements for fitting in overhead compartments. Made of extra-thick ABS, the hard-side casing of this luggage gives it some sturdy protection, whether for short or long-haul international journeys. It has a telescopic handle and four spinner wheels to guide you through airports, bus, and train stations. Inside the suitcase has more than enough space for a quick vacation or international getaway.

The Bric's 21-Inch Spinner Carry-On is the best business-friendly carry-on. It fits into most airlines' overhead compartments and can squeeze into more restrictive spaces due to its lightweight yet durable design. It also has two handles, four spinning wheels, and a telescopic handle that will help you navigate through the airport. Its casing and lightweight material make it an excellent choice for business travelers who need an easy to transport bag.
This Carry-On Duffel Bag is a unique bag that comes with two large, fixed wheels and a retractable telescopic handle that both come in handy for dragging the bag. Made of tough polyester material, this Carry-On Duffel Bag can fit into most airlines' overhead compartments. Plus, there's plenty of space inside, which also includes a few extra pockets for charging cables and other loose items.

The Samsonite Spinner Underseat Carry-On is the best under-seat carry-on that you can have near you. You can even store it safely under the seat in front of you. This Underseat Carry-On has the standard features of a regular carry-on with a telescopic handle. The four spinner wheels gives you easy mobility. It also has a few extra features for a suitcase this small. A protective compartment inside that will store your tablet and laptop. A USB charging port at the top of the carry-on that will give your phone a quick charge. It is also packed with multiple compartments and pockets for more organized packing.
WEGO – Discover the real value of travel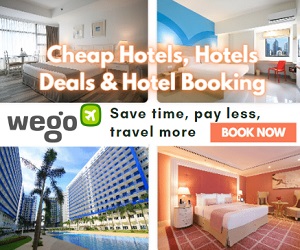 WEGO aims to inspire, to give more reasons, to make it easy — for you to travel. Used by millions of people every month — people who travel for adventure, for work, for family and for many other reasons. That's why WEGO works tirelessly to make your experience of planning & booking flights, hotels and trips as seamless as possible. For easy and hassle free travels, Book your travel at wego.co.in and make it happen!