Best Staycation Ideas You Can Do While You Still Can't Travel
There are still loads of fun ways to go on a relaxing staycation. To help inspire you, here are some of the best staycation ideas you can do in the comfort of your very own home. Not only are they fun and simple, but they are great ways to spend a meaningful and relaxing free time. Whether you go solo, with a partner, or with family, you deserve to unwind and make memories..
Food Travel Around The World Right In Your Kitchen
Cooking is a great way to spend time with the whole family while bringing the magic of travel into your home. Choose a particular country, and prepare a feast of delicious international cuisines. Once you've plated the food, let the aroma, textures, and tastes take you to whole new different places, far and wide.
Take A Virtual Tour
Always wanted to sail through Amazonian rivers or awe at Egyptian pyramids? Let a virtual tour take you and your family anywhere in the world you'd like. Virtual tours give you a glorious look at the world's most stunning places to go. There is a wide range of virtual tours online to choose from. Set up your screen, jump off into your sofa, get some snacks, and prepare to be amazed for hours with the beautiful destinations you've always wanted to visit.

Enjoy An Indoor Picnic
Indoor picnics are a simple yet fun and relaxing way to enjoy your staycation. Prepare plenty of comforting and delicious food, and pick a nice spot in your home to lay down your picnic blanket. Whether alone or with family, dig into delicious food, share stories, relax, and make new good memories.

Create Your Very Own Indoor Oasis At Home
If you've got a spare room at home, then this could be a great way to create a fun, tropical indoor oasis. From tropical plants to hammocks, there is lots of stuff you can buy to turn the room into a travel-themed paradise. Once all set up, spend the day in your indoor oasis relaxing.
Movie Night At Home
Going to the movies is so much fun. But nothing can beat being able to snuggle under a blanket together, watching a romantic movie with your partner while having a big bowl of popcorn and your favorite drinks.
Build A Fort Inside
Most kids enjoy building forts, and as an adult, this staycation idea lets you take back to your childhood days every single time. Build a fort inside and add plenty of pillows, cushions, and blankets. Get some lights and hang them for a warm and nostalgic vibe. Whether you're alone or with family, you'll surely enjoy this staycation idea.

Pizza Night
Not in the mood to cook for dinner? Order in a big, delicious pizza, and let the whole family dig in. The best staycation ideas you can do is to enjoy your pizza with some fresh drinks while watching your favorite TV series or playing some games. This may sound so simple but is pretty enjoyable and fun for the entire family.
WEGO – Discover the real value of travel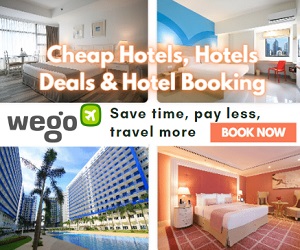 WEGO aims to inspire, to give more reasons, to make it easy — for you to travel. Used by millions of people every month — people who travel for adventure, for work, for family and for many other reasons. That's why WEGO works tirelessly to make your experience of planning & booking flights, hotels and trips as seamless as possible. For easy and hassle free travels, Book your travel at wego.co.in and make it happen!